Baby and toddler swimming lessons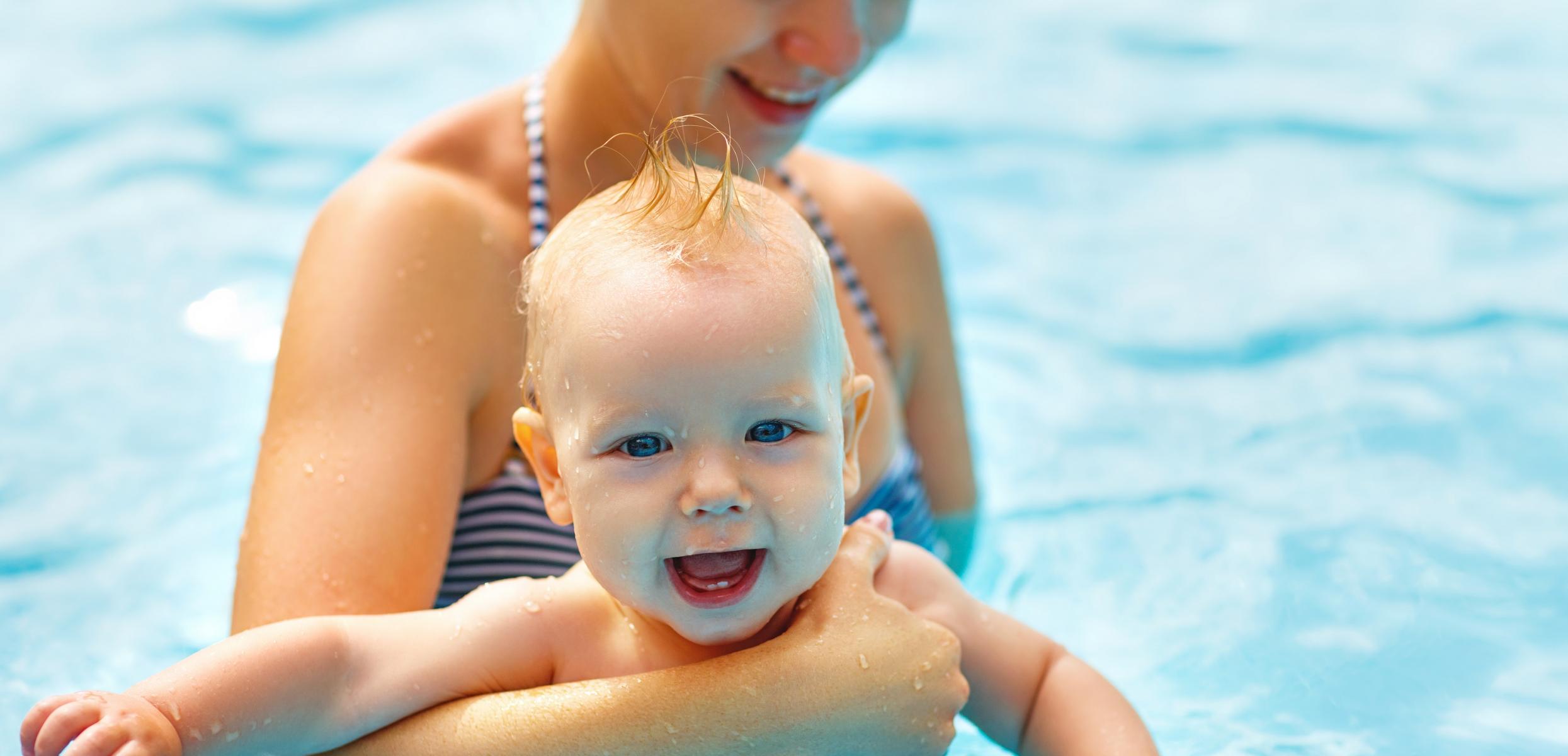 Baby and toddler swimming lessons
Big news for water babies: our baby and toddler swimming lessons are the perfect way to get active with your child and ease them into the water.
Lessons are held in one of the wooden cask baths at the Thermalbad & Spa Zurich. The pool is reserved for the little ones for the duration of their lesson. The temperature of the water is 35°C.
Participants
Baby lessons – mini: 4 to 7 months
Baby lessons – midi: 8 to 11 months
Baby lessons – maxi: 12 to 23 months
Toddler lessons: 2 to 4 years
Lesson days
One morning a week for eight weeks.
Course length
Eight classes
Cost
CHF 280, including day admission to the Thermalbad & Spa Zurich.
Registration
Hürlimannbad & Spa Zurich: Tel. 044 205 96 50
Swimming for babies
In our baby swimming lessons, you and your child can have a wonderful time together in warm 35°C thermal water. Swimming with your baby helps strengthen your bond and is a playful way to get them comfortable in the water. Swimming boosts your baby's physical and mental development – and it's great fun, too.
Toddler swimming lessons
Accompanied by an adult relative or guardian, toddlers build their water confidence in our swimming lessons. Your child gets comfortable moving around in the water in a relaxed and playful way – laughing, singing and splashing to their hearts' content.
Information on swimming for babies and toddlers
Baby changing and nappies
Please use the baby changing facilities in the dressing room. We kindly ask that you dispose of used nappies in the plastic bags you will find by the washbasin. Your child should wear an appropriate swim nappy for the lesson. Swim nappies are available from Thermalbad & Spa Zurich or from major retailers.
Showers
You and your child should shower before the lesson. Some babies don't like showers. Hold your child close to you and bathe them with both hands. Avoid placing the shower jet directly over their head.
Food and drink
Swimming certainly works up an appetite! Please use the dressing room for breastfeeding or to have a snack after the swimming lesson. Food is not permitted in the other spa and dressing room areas.
Illness
Children with diarrhoea or highly infectious illnesses should not swim. If they have a slight cough or sniffle, they can swim as usual. If you are unsure, please consult your doctor. If you or your child feel unwell, you should rest up at home.
Jewellery
If you or your child wear bracelets or necklaces, please remove these before the lesson.
Insurance
Insurance is participants' own responsibility.
Missed lesson catch-up
If you have missed or are planning to miss a lesson, you can catch up on your missed lesson in the same term. This is subject to availability, which cannot be guaranteed. We do not recommend having lessons back-to-back. Please contact info@thermalbad-zuerich.ch for more information.
Admission to the Thermalbad is permitted for missed lessons in the current term from Monday to Friday between 9 am and 12 noon.